.. And back to Sweden for Eurovision 2016
Welcome to Nighttours Eurovision. Our special Eurovision Song Contest website will keep you and all other fans up to date on Eurovision (pre)parties, shows and events around Europe, celebrating Europe's favorite tv show.
Enjoy the music, the acts, the glitter, the camp, the scandals and the fans (who are most likely gay...). Cute Mans Zelmerlow won the 2015 contest in Vienna with his Heroes. This means the 2016 Eurovision Song Contest will be held in Sweden again, like in 2013. Yes, the fans are returning to the Land of ABBA! Stockholm will be the 2016 host city...
The ESC is not just a great event to watch on television, it's even more fun to travel there and meet up with fans from all of Europe!
Eurovision parties and events coming up
The dates: 10, 12 and 14 May 2016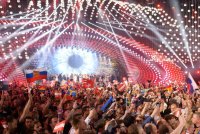 Eurovision 2016 will be held in Stockholm on Tuesday 10 May (first semi Final), Thursday 12 May (second semi Final) and Saturday 14 May (the Grand Final).
The event attracts thousands of European fans, who will enjoy the big media circus, the songs, the outfits, the strange languages, the country parties, the Euroclub and many Eurovision parties all around town.
The city: Stockholm
The Swedish broadcaster confirmed that the 2016 host city will be the beautiful capital of Stockholm. This city, also called Venice of the north due to all the islands, has over a 100 museums, most popular are the Museum of Modern Art and the interactive ABBA Museum, the cultural highlight of every Eurovision fan. And for parties and drinks? The gay night life is not very extensive but very relaxed. So come and join us in Stockholm too!
check out Nighttours Stockholm
The venue: Globen Arena
The Eurovision Song Contest will return to the Globen Arena, the venue of ESC 2000. The globe can hold 14.000 till 16.000 spectators, so there will be enough room for many fans from all over Europe.
The parties: EuroClub, EuroVillage & Euro Fan Café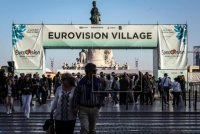 Most likely, Stockholm will offer a couple of party venues for the all visiting fans. The EuroClub is the venue for some special parties, the official after parties and performances by participants, only accessible by accredited fans, delegates and journalists. The EuroVillage is an open public venue with stages and sponsor experiences. The Euro Fan Café is set up by OGAE and will offer concerts, parties and special events, open to all fans.
Europe, start booking now!
If you want to visit Eurovision, make sure you book a hotel in Stockholm now .... So make sure you have a hot spot during the two weeks of the event right in the city center.
You can book directly your hotel in Stockholm via the link here
Stockholm hotels